No matter how many commercials you see or how many products you try, a super smooth shave is really a matter of trial and error. You may need to try several different products and as many different shaving creams and aftershaves until you find the combination that works for you.
However, a few tried and true tricks to get a super smooth shave never hurt anyone. Here are a few examples.
When to Shave
Besides the deluge of shaving products and creams there are for sale in the market today, sometimes knowing when to shave is equally important.
Typically, when a man shaves in the morning, he will have more success in avoiding the dreaded five o'clock shadow. This especially rings true if a man has a darker or tougher beard.
Also, shaving fresh out of the shower may help to be a primer of sorts. Your skin's pores are open after the steam of a shower and may be more receptive to a moisturized shave gel. This may help in that it leaves your skin softer and smoother after that morning shave.
Cleansing your face in the shower also creates a clean surface on which to work. This will avoid infections from cutting yourself if your skin is not clean.
If you have a lighter beard, you may get away with shaving in the evening time. This is a great way to avoid going to work with little pieces of tissue paper that you forgot to remove due to nicks and cuts.
The Perfect Barber Shave – Nomad Barber
The Tool of Choice
Just as men regard carefully which tool to use in a project, he needs to consider his shaving choices carefully, as well. One of the worst things to do is to allow your razor to become dull. A dull blade will cause irritation and even razor bumps, and you can wind up with nicks and scars instead of the smooth, polished appearance you're looking for.
Make certain to replace your razors before they get dull. Shave in the direction in which your hair grows, so as to not go against the grain.
While you may think of the razor as the tool of choice, don't forget a good old-fashioned shaving brush. A shaving brush will alert the hairs that it is time for a good close shave and it will also lather your face up in preparation for shaving.
A good shaving brush might do for men what a good facial mask does for women – it clears away dead skin.
Aftershave?
Aftershave is used traditionally to close pores and disinfect, but most aftershaves contain alcohol which dries the skin. Obviously using it on a daily basis can be damaging. As an alternative, use cold water or a hydrosol.
G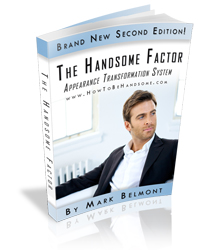 uys, if you're ready to up your personal appearance game, click
here
to visit the world's first "appearance improvement" systemfor men! This is a step-by-step program full of secrets to improve physical appearance. It offers an unconditional money back guarantee, so it's risk-free! To learn more, check out
The Handsome Factor
website.